Everything you need to pass in one place, on any device
We provide easy to understand, fun and up-to-date DVSA revision content (the people who make the real test!) at the touch of your fingers
Packed with features to help you pass first time
Unlimited Mock Tests
Timed and scored mock tests designed to imitate the real test, showing you exactly where you passed or failed.
Interactive Hazard Perception
Our specially designed hazard perception system trains you on where to click with video feedback showing you exactly where you missed out
Digital Highway Code
Included as part of all packages is the latest version of the highway code with all the latest rules of the road
Automatic Updates
Free automatic updates ensures you are always learning from the latest content for the latest driving theory tests
Bespoke Training Plan
Our intelligent training plan system automatically builds you a bespoke training plan so you can focus on the areas you need to improve on most
Expert support
Our theory test experts are on hand 7 days a week to offer you hints, tips and offer any support you need to pass with ease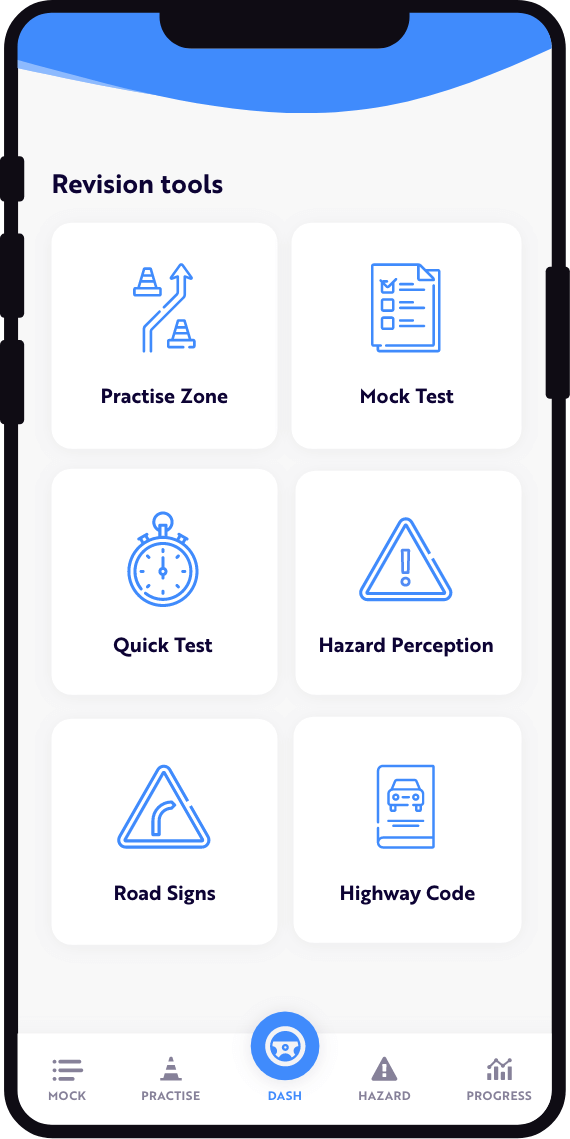 UK Car Theory Test
Over 52% of people fail their theory test each year on average, with Theory Test Pass our pass rate of 93% speaks for itself, revising with Theory Test Pass gives you fun, interactive tools to study from over 700+ DVSA revision questions (from the people who set the real theory test) and you'll get free automatic updates included so you're always ready for the latest theory tests.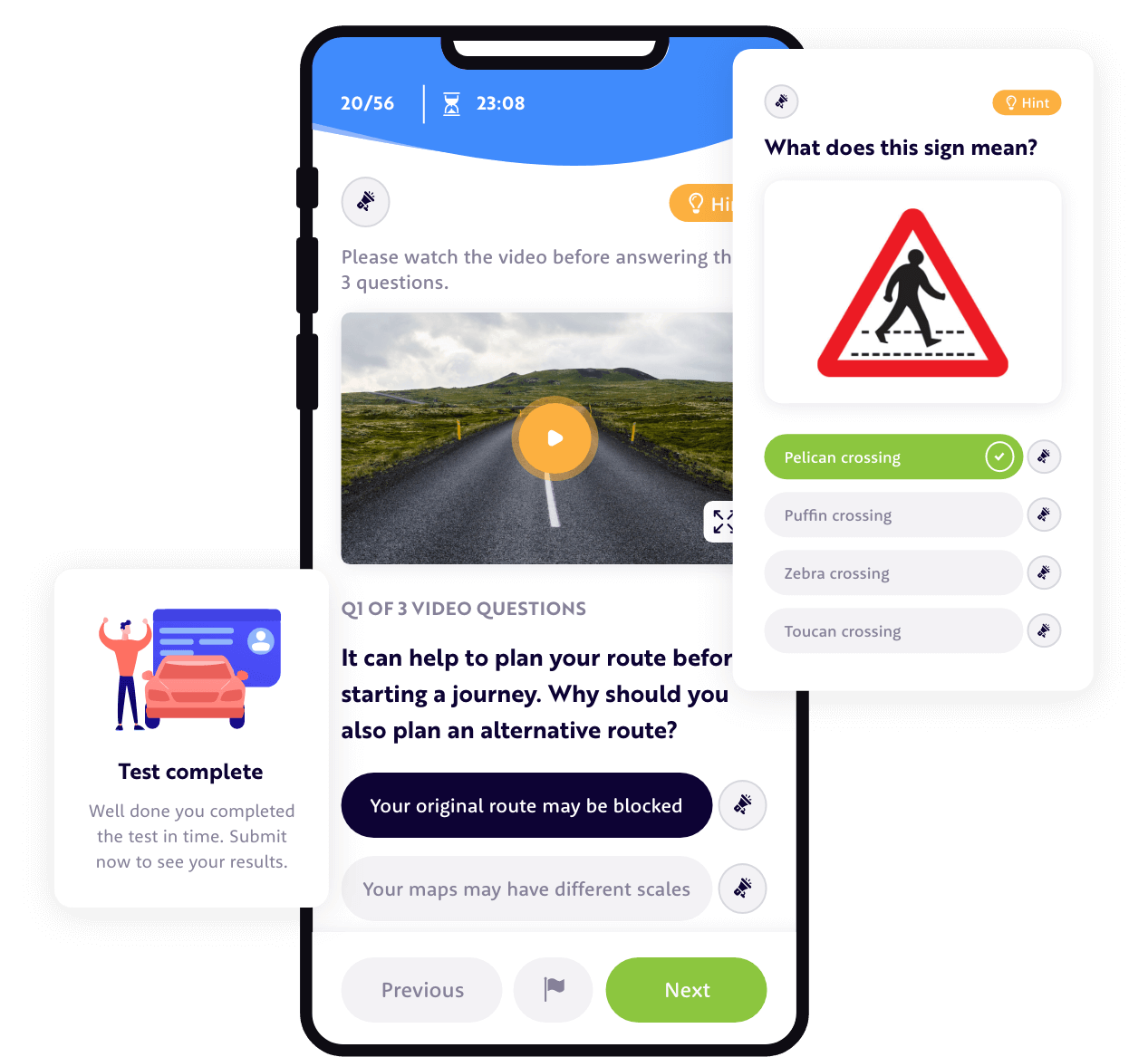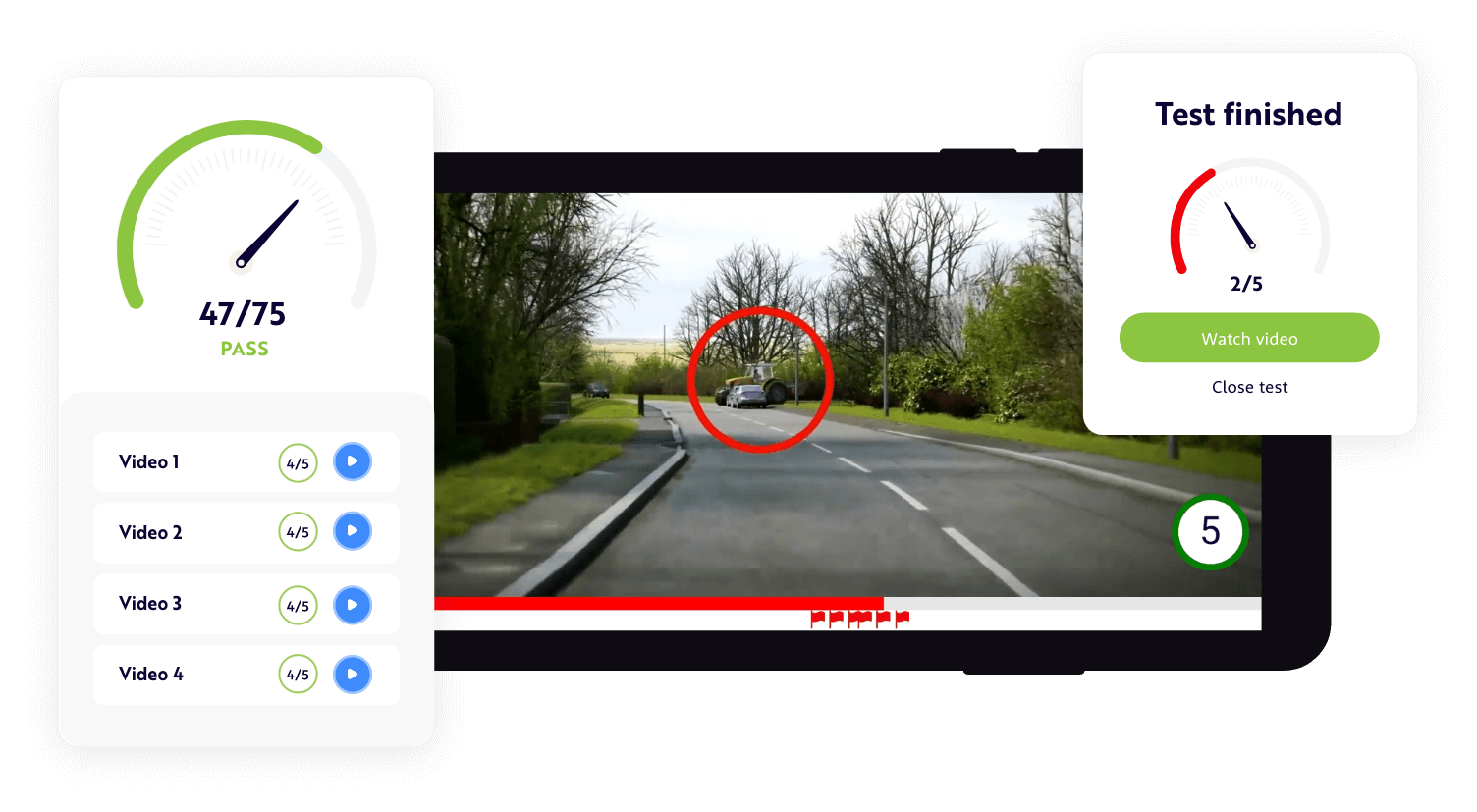 UK Car Hazard Perception Test
Using our specially designed Hazard Perception training system you can practice from the latest DVSA Hazard Perception clips from any device, take unlimited Hazard Perception mock tests with interactive video feedback and coaching showing you exactly where you should've clicked, making hazard perception easy to pass every time.
Excellent App to pass theory test
Amazing resource for passing your theory test, lots of information and mini tests to complete and even comes with an app so i can learn on the go.
Best thing yet
Absolutely amazing, really worth the money, has everything to help you pass, best thing I have done is buy this, and helps me so much. Definitely recommend.
Good for your theory test
Good place to practice your theory skills. You can do mock tests or just practice a specific topic and you can track your progress too and very good hazard perception videos too.
Totally worth it
Totally worth it - I've tried numerous methods, but this one really works, it's easy to understand, simple to follow and set out brilliantly - highly recommended
Amazing, reliable and efficient!
Amazing, reliable and efficient practice and mock tests! Hazard perception videos are so beneficial, really good preparation for getting on the roads. Highly recommend!
Theory Test Pass is honestly amazing
Theory Test Pass is honestly amazing! So many of my friends and family members have passed their test because of this! I know more information than ever now and I 100% recommend this, it makes things so much easier!! I will be going into the theory test confident and happy!
Worth it!
Makes learning so much easier, I use to struggle but this is definitely the best way to learn. :)
Fantastic preparation for teens
This was gifted to me by my mum and I have used it daily ever since! Absolutely amazing I would highly recommend!
Pass your test from just £7.99..
All our packages include mock tests, highway code, hazard perception, mobile apps, free updates, expert support and more
Driving instructor?
Pass your test from just £7.99..
The DVSA (the guys who set the real test) don't publish the actual questions you'll get in the real test - that would be too easy! However, our licenced DVSA Revision Questions are very close to the real questions you'll see, so you'll feel right at ease when you come to sit the real test
Absolutely! We have everything you will need in one place, you can login and learn at your pace from any device, any time. The only thing not included is the real test, you have to book that on the Official Government website.
Your membership includes access to our experienced driving theory test experts, nobody knows more about the theory test and how to pass it! Our fast and friendly team are on hand 7 days a week to answer any questions you have and offer you advice to help you pass with ease
Our website and apps are specifically for all theory tests held in England, Wales, Scotland and Northern Ireland, included in your membership is free automatic updates so you're always learning from the latest content for your test
Are you a driving instructor? 
Grow your business with Theory Test Pass, give your students access to all our tools with a business account. You'll be able to add and manage your students as well as see their progress, test dates and usage.