Unlimited mock theory tests - just like the real thing.
To prepare for your UK driving theory test and ensure you pass your theory test first time, we've pulled together our specially designed driving theory mock test system, using the latest DVSA revision questions you can practice unlimited theory mock tests which are timed, scored and designed specifically to be as close to the real test as possible, so you know exactly what you're walking into on test day.
You'll be shown question by question feedback with helpful explanations on where you went wrong and how to improve your score next time.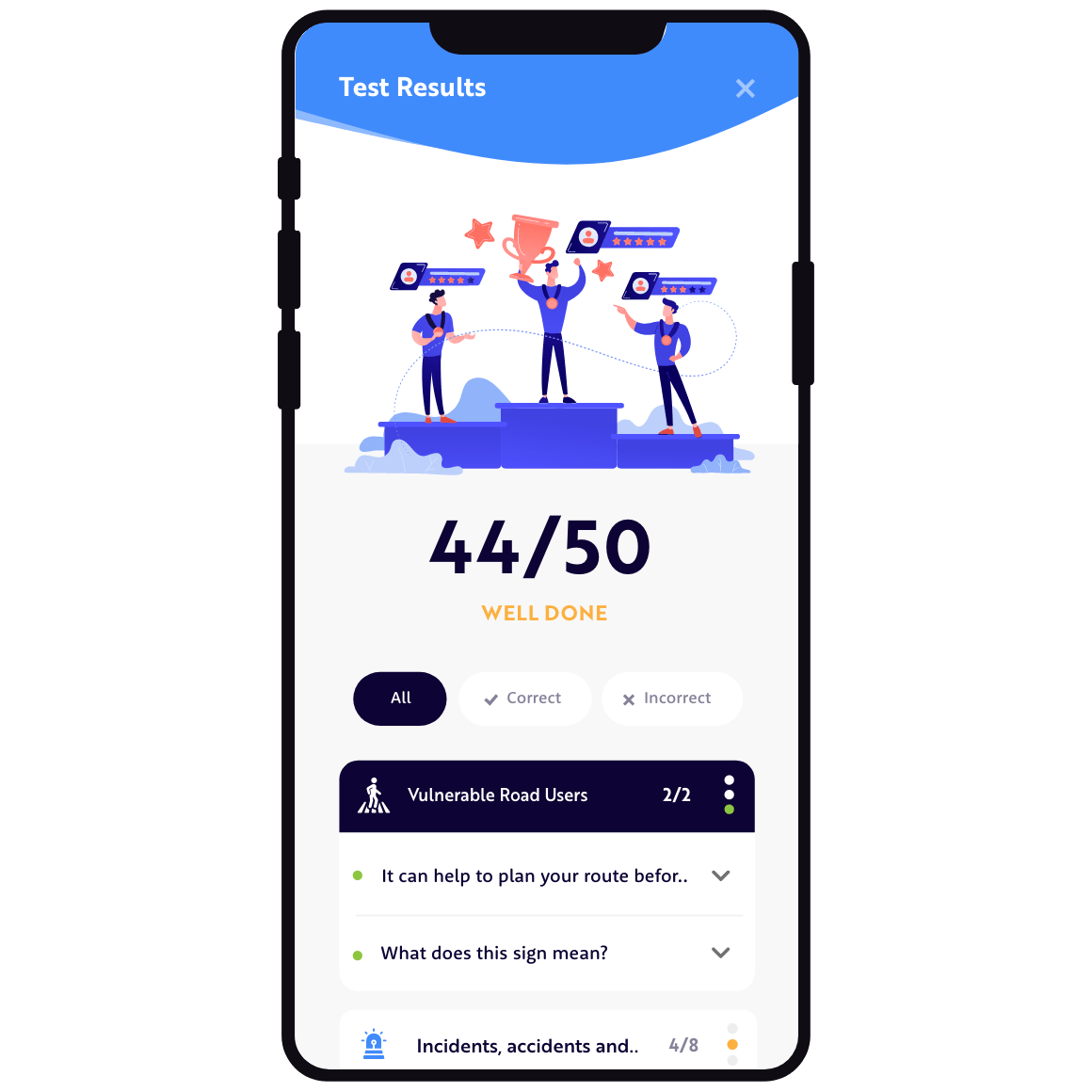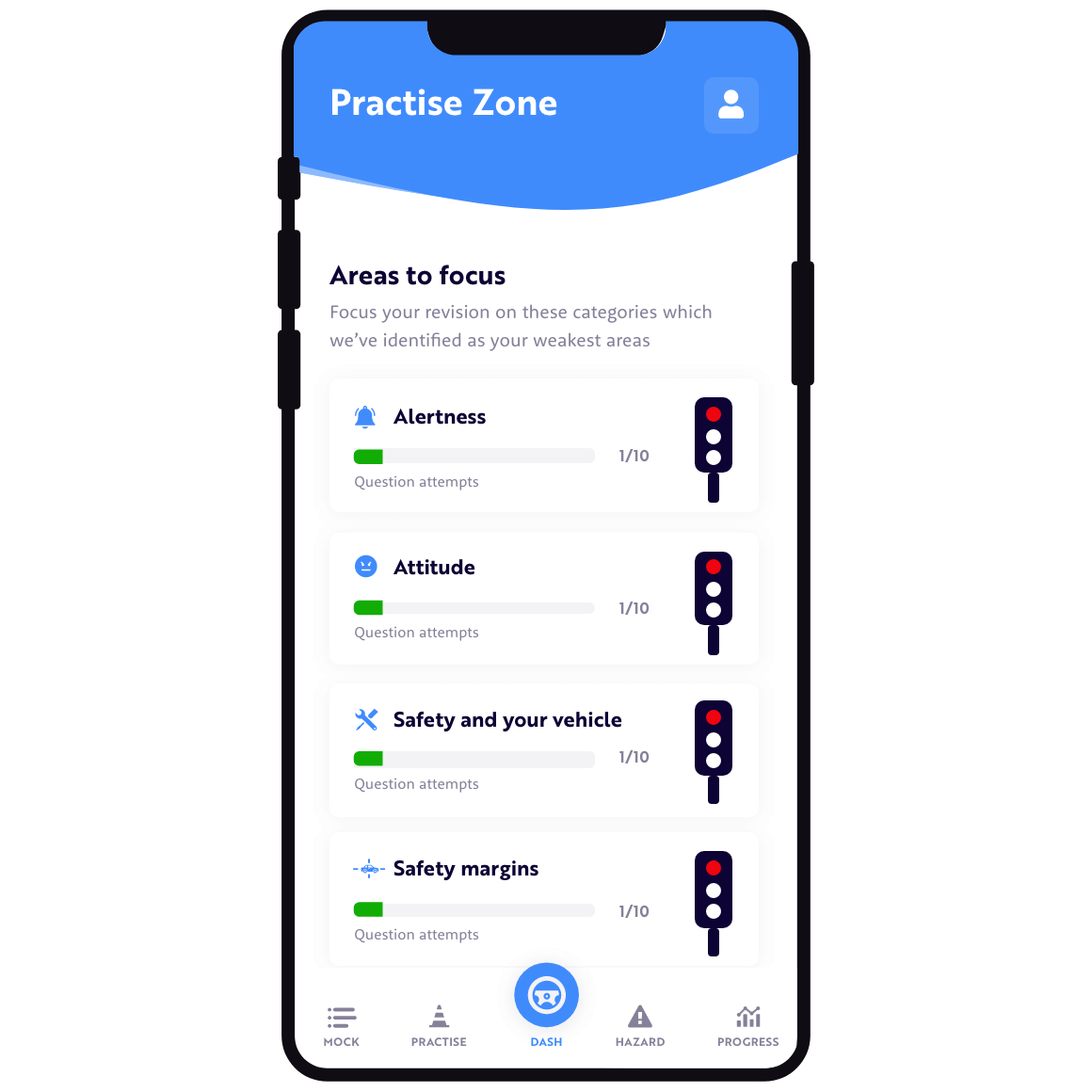 Bespoke training plan tailored to you
To improve your chances of passing your UK theory test first time our bespoke training plan system will show you exactly which areas of the theory test you need to practice, you'll spend less time on areas you already know and more on the things you need to improve to pass. Over time, this smart system learns your weak spots and continually updates as you progress, flagging your key areas to focus on so you're test ready sooner.
Custom tests - learn your way
Everyone revises for their UK driving theory exam in different ways, with the quick test tool you can focus your learning on the bits that matter most to you, choose your categories to study, how many questions and even focus specifically on questions you've previously got wrong or ones you've not yet seen before to further tailor your revision.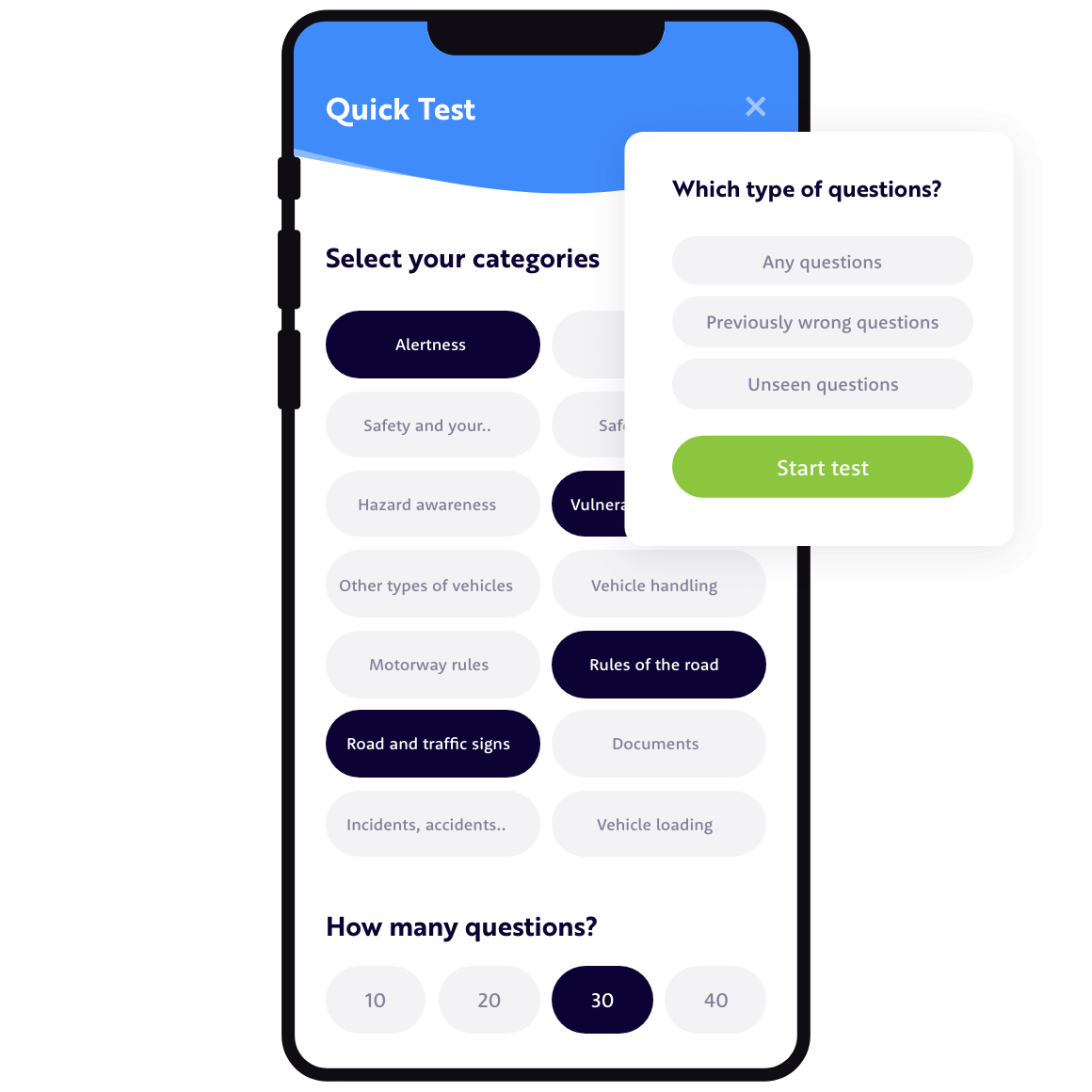 Fun & Easy!
A fun and easy way to learn the theory test, I'm so glad I bought this app. My scores are getting better and better.
Highly recommended!
This site is fantastic - very clear, broken down into simple sections and easy to use. I passed my theory test first time after a few months of using this site to study and I honestly don't think I could have passed without it
Amazing
This app is great! Really useful and helpful, easy to use too. Has helped me hugely with learning my theory!
Brilliant app
Brilliant app easy to use I like how you can keep track of your progress best app I have used, would defo recommend
5 star theory test
I bought the test pass for my son to start learning so by the time he us 17 he can put in for his theory straight away. Its brilliant . I'm very impressed and its so easy to use
Great app
Great app. Has something for everyone no matter how you like to learn. Worth trying when you're trying to learn to pass
Amazing app
amazing app. I struggle to study for the theory test and after receiving this for Christmas I would recommend it to anybody learning to drive.
Amazing theory pack
I wanted to learn to drive and to know all about the highway code, road signs and practice my theory test. This package i bought is amazing. Its so easy to use and i get to use it on my lap top and phone. Its up to date, has so many questions, progress checker. Amazing and highly recommend
What are you waiting for?
The best way to see all the features is to try them for yourself, sign up today for our free no obligation trial